You Deserve More Than a Quarterly Statement.
(Hint: A quarterly statement isn't a financial plan.)
Financial strategies that help you develop a clear path to the financial future you dream of. You pursue your dreams.
We'll handle watching the decimals.
Our proprietary Centrus Wealth Focus financial plans take a holistic approach to financial planning.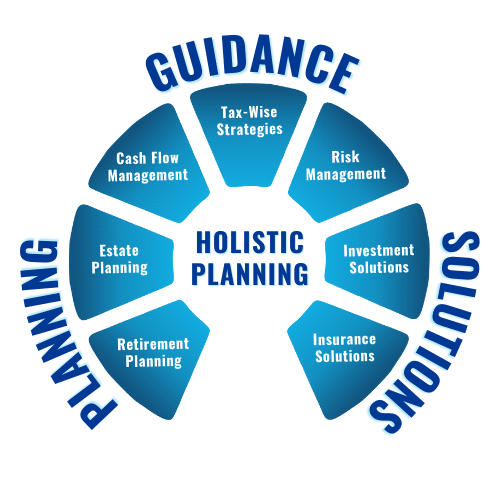 Holistic Financial Planning
Centrus Financial Strategies takes a holistic approach to financial planning, considering all aspects of your financial life.
Tax-Wise Planning & Strategies
We employ tax-wise strategies to align your financial portfolio with your lifestyle goals and safeguard your savings against unnecessary taxes.
No-Nonsense Advising
With our guidance, planning, and solutions, we'll help you map out the financial road ahead.
The Map You Need to Power the Future
You Deserve.
Centrus Wealth Focus is the gps to get you where you are going.
Strategies that give you the data you need to make informed decisions about your financial future.

Income Strategy
A strong income strategy not only provides for managed income over time, but it also protects against the ups and downs of the economy, from debt ceiling fights in Congress to stock market corrections.

Tax-wise Strategies
Allocating your investments and savings with tax-wise strategies will safeguard against paying unnecessary taxes now and later and ensure your lifelong retirement income.

Risk Analysis
Determining your risk tolerance provides your financial services team with a clear understanding of what types of tools you are most comfortable employing.

Life Insurance Review
A life insurance review is a thorough evaluation of your existing life insurance policy to assess its suitability, coverage, and overall effectiveness in meeting your financial goals and needs.

Estate Planning Review
We partner with your estate attorney to evaluate your existing estate plan and ensure it aligns with your wishes, goals, and current legal and financial circumstances.
From college education planning to estate planning, the Centrus Wealth Focus provides a clear, step-by-step map to building a solid financial future. Retirement Planning
Centrus links powerful and insightful technology with our experienced team to deliver your retirement destination worry-free, using portfolio stress tests to determine market risk exposure and assess the strength of each plan. Charitable Giving
Giving to others and making a positive difference in their lives can foster a positive emotional connection and sense of purpose. Through tax-wise financial planning, Centrus provides the most comprehensive, tax-wise financial planning so you can achieve your charitable goals while also reducing your taxable income. College Education Planning
Benefit from the tax advantages, flexibility, and investment options specifically tailored for education savings by building a 529 College Plan into your financial roadmap. It helps create a disciplined approach to saving for education expenses and provides families with a dedicated resource to fund educational goals while maximizing potential tax benefits and financial aid opportunities.
Secure your future with top-performing products and investment vehicles that power your goals.

Investment Management
Wise investment management is the key to unlocking lifelong retirement income. At Centrus, seasoned investment managers have in-depth knowledge and experience with analyzing financial markets, understanding investment products, and identifying potential opportunities and risks.

Annuities
Annuities provide a sense of financial security and peace of mind, knowing that you have the appropriate coverage in place. A well-positioned annuity can alleviate concerns about potential financial hardships. This peace of mind allows you to focus on other aspects of your financial plan and life goals.

Life Insurance
The Centrus Team understands the importance of insurance as financial protection for loved ones. We conduct a thorough life insurance review to ensure your loved ones have the coverage needed to replace lost income, cover living expenses, pay off debts, or provide for other financial needs.

Long-Term Care Insurance
Long-term care offers respite for family caregivers who may experience physical, emotional, and financial strain while providing care to their loved ones. By entrusting the care to professionals, family caregivers can have peace of mind and time for self-care.
Retirement planning is complex.
The right team can make all the difference.
Retirement planning is more than just investing. It encompasses various aspects of financial management and requires the support of the right team. At Centrus, we make sure you have the team you need to succeed.
Financial Advisor
Your financial advisor offers personalized advice tailored to your unique circumstances. They help you make informed decisions throughout your retirement journey.
Certified Financial Planner
CFP professionals have undergone rigorous training and education in various areas of financial planning, including retirement planning and income strategies. Their expertise allows them to provide comprehensive guidance tailored to your unique financial situation and goals.
CPA/Tax Professional
A tax professional can assist you in developing tax-efficient retirement strategies. They can help you understand the tax implications of your retirement accounts, investment withdrawals, and other income sources.
Social Security Specialist
Maximizing Social Security benefits is a key aspect of retirement planning. A Social Security specialist can help clients understand the program's intricacies, such as claiming strategies and benefit optimization.
Certified Wealth Strategist
The Certified Wealth Strategist designation is based on an established set of industry-wide competencies that cover the concepts, rules, regulations, laws, and standard operating procedures that the candidate should be proficient in affluent and high-net-worth retail market segments.
Estate Planning Attorney
An estate planning attorney can help you establish essential legal documents, such as wills, trusts, and powers of attorney. They can provide guidance on minimizing estate taxes, protecting your assets, and ensuring that your estate is distributed according to your wishes.
Insurance Professional
An insurance specialist can evaluate insurance needs during retirement. They can help determine the appropriate levels of life insurance, long-term care insurance, and other types of coverage to protect against unexpected events and mitigate potential risks.
Investment Professional
While retirement planning is more than just investing, having an experienced investment manager is invaluable. They can help client design and manage an investment portfolio that aligns with your retirement goals, risk tolerance, and time horizon.
Starting the journey with Centrus is simple.
step 1.
Get Started
Book your first meeting and discover what is possible in your financial life.
step 2.
Get Focused
Start moving confidently in the direction of your financial success. With the right strategy and team in place, you can do anything.
step 3.
Get Living
Enjoy life on your terms with control and confidence in your financial life like you've never known before.
About Centrus Financial Advisors and Strategies
Centrus Financial Strategies, a holistic, tax-savvy financial planning firm founded by Jude H. Wilson, provides guidance and solutions for all facets of your financial concerns. The company's proprietary process - The Centrus Wealth Focus - encompasses investment management, tax strategy, risk tolerance analysis, cash flow/debt management, and insurance needs analysis, including life, disability, and long-term care coverage.
In addition, Centrus offers tax planning, estate planning, property, and asset review, and legacy planning. With Centrus, you won't just be investing in quantity, you'll be investing in the quality of your life.

Our core focus at Centrus is to create clarity and peace of mind so that you can live your life with confidence.


Jude H. Wilson, CWS®, MBA, BPC™
Chief Wealth Strategist, Centrus Financial Strategies